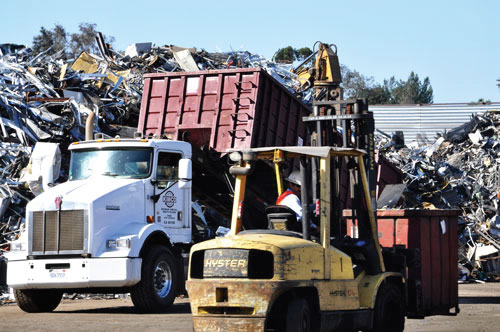 Why Metal Recycling Is Environmentally Friendly
Metal recycling is very important in order to lower our carbon footprints. Manufacturers, for instance, can melt down certain types of metals and then mold them into new products, to reduce their negative effects on society. Metals such as Aluminum, steel, and copper can be easily recycled especially when you are carrying out a major remodeling on your home. Please contact M&M Waste for dumpster rental to transport your metal waste and other junks to the recycling facility.
What are the Benefits of Metal Recycling?
Metal recycling offers lots of environmental-friendly benefits in a number of ways. Recycling metals by melting them down will reduce carbon emissions. This means there will be a lesser greenhouse gas, and reusing these metals will improve air quality while lessening the negative impact of metals on the climate.
Water usage is also reduced when scrap metals are used to create new products instead of creating the products from new Iron ore. Research has shown that one can save as much as 40% of water by using recycled metals to make new ones.
With metal recycling, energy consumption is greatly reduced. Lesser energy is required to create new metals from scrap metals compared to making new metal products from the virgin ore. You can save as much energy needed to power a 65-Watt bulb for several hours when you recycle an Aluminum can.
If you need to rent a dumpster to recycle metals and other debris from your home renovation, construction site or any other major job, please contact us at M&M Waste.
What Other Reasons Should I Recycle Metals?
Recycling metals is good for the environment; hence it will have a positive effect on the community. Though metal recycling can be labor intensive, that is why dumpster rental service providers like M&M Waste offer a flexible and hassle-free recycling service that is very convenient. Another benefit of metal recycling is that the metals will not end up in the landfills, and that will save space for items that should be kept in such landfills.
M&M Waste Scrap Metal Recycling Service Has You Covered
At M&M Waste, we do care about recycling metals and other debris especially from the construction site and home renovation works. If you have a basement, garage, barn or out-of-building space full of metals, please contact us and our dumpster will be dispatched to your address to evacuate the metals. We do provide a flexible waste evacuation that you can schedule weekly, monthly or on another basis. We will guide you on choosing the right dumpster sizes for convenience and to save you the costs of hiring a second dumpster to evacuate your debris.
Consider how much favor you will do to the environment by having your metals recycled. You will help preserve your community and immediate environment, and the metals will not end up in the wrong place. Give us a call at M&M Waste and we will help you rent a dumpster that will serve your waste evacuation needs.