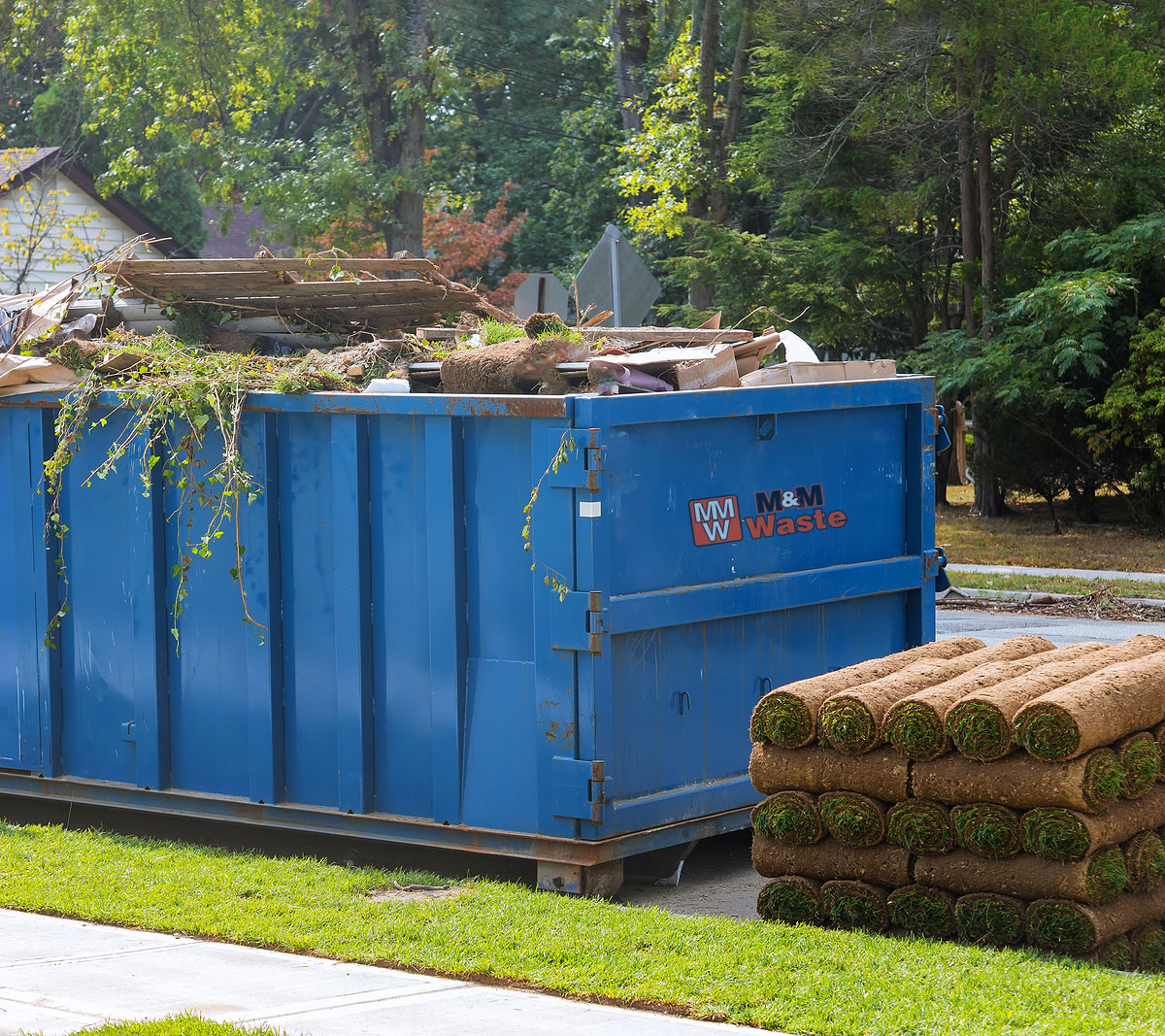 What Can I Fit in a Dumpster?
When planning for any major project, be it home renovation, spring cleaning, or construction--one of the primary considerations should be waste management. Figuring out where and how to dispose of debris and unwanted materials can be daunting. A dumpster rental provides an effortless means of disposing of large volumes of trash without hassle or concern. But one common question remains: Can all waste fit inside one? M&M Waste is here to answer that exact question.
Capacity and Limitations of a Dumpster
Understanding the capacity and limitations of a dumpster rental is integral for efficient waste management. The size needed when you rent a dumpster will largely determine what and how much material can be discarded; most rental companies offer sizes measured in cubic yards that indicate the volume contained. Standard sizes usually start around ten cubic yards up to 40 or more depending on project needs; more specific specifications can also be met depending on specific tasks undertaken.
Household Cleanouts and Renovations
When decluttering or renovating, waste can quickly add up. A dumpster provides an efficient means of disposal for old furniture, cabinetry, countertops, appliances (be sure to remove refrigerants first if applicable), general household clutter, as well as flooring materials like carpeting hardwood or tiles; just remember that for optimal space utilization, the key lies in breaking items apart as much as possible!
Yard Waste and Landscaping
Homeowners working on their yards - clearing away branches after a storm, designing their garden from scratch, or disposing of organic debris like branches, leaves, grass clippings, or small trees can use dumpsters to dispose of organic material like branches. However, keep an eye on weight limitations; though you might think you have plenty of room in a dumpster bin for heavy materials, they could quickly become weight restrictions in no time!
Construction Debris
Construction projects typically generate large quantities of debris, including drywall, wood, metal, concrete, and bricks. A dumpster can easily hold all these items (provided they do not include hazardous or prohibited substances). Weight distribution must be evenly spread between dumpster loads to allow a professional hauling company to collect it all without issue.
Roof Replacing
When replacing a roof, renting a dumpster to handle roofing shingles and underlayment debris is necessary to ensure it fits inside one container. Since heavy materials such as tiles or wood shakes must be loaded carefully onto one truckload of debris canister, making certain your chosen container meets both size and weight criteria is key to fitting all debris inside at once.
Bulky and Heavy Items
Selecting a dumpster with an increased weight capacity is necessary for bulkier or heavier materials like concrete. Some containers even feature doors that open outward to help accommodate loading large objects safely into place while making better use of space.
Prohibited Items
Discussing what items cannot fit in a dumpster is also vitally important. Hazardous substances like paints, chemicals, tires, batteries, and electronics cannot typically be placed into dumpsters. These must be handled using procedures that ensure environmental protection and human safety.
Maximizing Dumpster Space
To maximize your dumpster rental's potential and maintain the safe transport of items, planning how you'll load is essential to use every inch. Start with flat items at the base, filling any spaces between with smaller debris until bulkier items come onto the top - always attempt an even loading pattern to maximize space utilization while staying compliant with transport regulations.
Choosing the Right Size
Before renting a dumpster, evaluate the scope of your project. A dumpster rental company can assist in estimating which size dumpster would work for your job based on this description of tasks performed. A 10- to 20-cubic yard dumpster could suffice; for larger or heavier materials, consider using 30- to 40-cubic yards instead.
Working With a Dumpster Company
When renting a dumpster, choosing an appropriate company will be crucial to your project's success. They should advise which size would suit best, in addition to weight restrictions and prohibited materials. Their experience ensures you can store all the trash safely.
Scheduling and Duration of Rental
Coordinate your delivery and pick-up schedule with the dumpster rental service provider. Most providers offer rentals that range from three days to several weeks - typically sufficient time for most projects. Alternatively, ongoing projects might benefit from emptying their dumpster regularly before being returned for future use.
Environmental Considerations
When deciding what can fit in a dumpster, it's also wise to consider environmental impacts. Many dumpster rental services have policies for sorting and recycling materials - helping ensure that much is reused or recycled rather than ending up in a landfill.
M&M Waste
Renting a dumpster from M&M Waste can significantly ease the strain associated with waste removal for any project - from household cleanouts to construction sites - it provides an efficient solution that handles various materials if used within its weight limit and prohibited item guidelines.