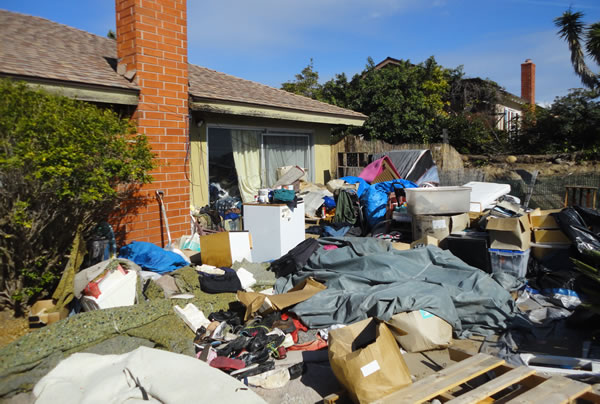 Tips for a Hoarder Cleanout
Reducing hoarding situations can be emotionally taxing and time-consuming; however, it becomes manageable with a systematic approach and sufficient resources in place, along with some helpful hints and tips. M&M Waste has a few essential tricks and techniques for hoarder cleanout, particularly with a dumpster rental.
Consider All Aspects of Hoarding
Be aware that hoarding may involve more than simply collecting items- it often has deeper psychological causes that span decades or more! For the best results, approach this situation with caution, understanding, and patience.
Tackle one room or part of one at a time: this approach ensures your task can be easily manageable while helping build momentum for more renovation.
Enlist the assistance of family, friends, or professionals experienced in hoarder cleanup for maximum productivity and success. A collective approach may make the task quicker and smoother than working solo.
Setting clear goals for each cleaning session prioritizes the work. From clearing out an entire room or category of items to filling a rented dumpster, having clear goals keeps you on track!
As you sort through your possessions, categorize each into piles such as "keep," "donate," "recycle," and "discard" to identify their intended destiny easily. Categorizing items correctly makes making decisions easier!
Renting a dumpster can help manage the massive volume of items left behind during a hoarder clean-out more effectively and ensure an effective cleaning process. A dumpster provides efficient disposal of large volumes of trash and makes cleaning quicker overall.
Before calling a dumpster company, accurately inventory your project's waste. Dumpster companies provide various sizes; selecting an ideal one ensures you will only pay extra or run out of space soon.
Not everything needs to go in the garbage can - many items can be recycled instead, while others donated directly to charities or friends and family can reduce waste volumes significantly. Recycling and Donating are eco-friendly approaches that help decrease the volume of waste production.
While cleaning, mold, pests, or damaged items might come to light to protect yourself and the space if there's the risk of mildew/mold. Wear protective clothing like gloves, masks, and respirator masks during this process, and ensure adequate ventilation if there is the possibility for mildew/mold growth in your workspace.
Cleansing out a hoarder's home can be emotionally and physically exhausting; regular breaks allow you to rest, replenish fluid levels, and reset.
Photographing before-and-after shots can be inspiring; it allows you to represent your accomplishments. Photos also serve as great visual reminders that symbolize hard work being completed successfully.
Once the cleanout process has concluded, the cleanliness and order must remain. Develop a system to declutter and dispose of unnecessary items regularly; if this proves ineffective, rent a dumpster from an established provider instead!
For anyone experiencing hoarding behaviors, seeking therapy or counseling sessions can be extremely useful in treating its root causes and ensuring this behavior does not reoccur.
Be Patient and Compassionate
Remember, this process can be extremely taxing on hoarders, so be patient, offer your support, and highlight the advantages of living in a clean home.
M&M Waste
Hoarder cleanout can be overwhelming, but it can be managed successfully with proper strategies, assistance, and resources like dumpster rentals. Whether you're cleaning out a hoarder for someone else or yourself, taking an analytical, methodical, and compassionate approach will ensure its successful conclusion. Every effort made helps create a safer, healthier living space, and M&M Waste is here to help!