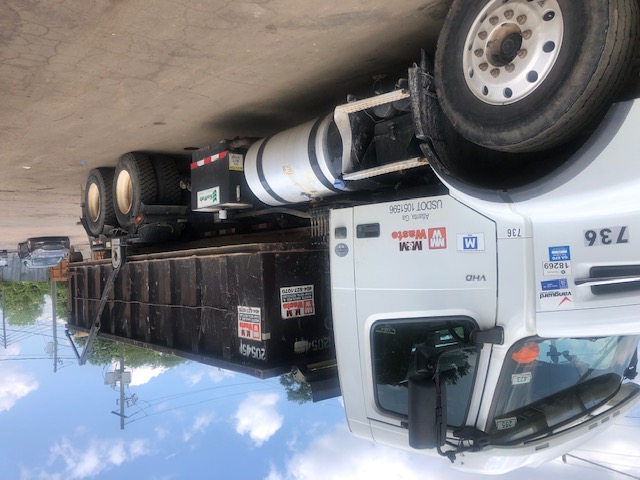 Safety Tips When Working with Dumpster Rental
It's no surprise that when renovating your home and hiring a dumpster rental company like M&M Waste, it can create a lot of safety hazards for you and your family. Between the various tools being used for your project, and the debris and waste generated from your project, the contractors you are working with should ensure you and your family's safety by making sure their work is cleaned up properly at the end of their workday.
Dumpster rentals are very common when it comes to residential work, that doesn't mean there isn't any risk associated with your dumpster rental. Throwing garbage or waste into a dumpster sounds easy in theory, but contractors doing it is another thing. If you're looking to stay as safe as possible when working with a dumpster company, here are our top 6 tips for ensuring the safety of you and your family while you rent a dumpster.
5 Safety Tips When Working with a Dumpster Rental Company
1. Choose the right location
When it comes to having a dumpster at your home, they oftentimes have to be placed on your driveway. When determining the location to put your dumpster rental in, you want to place it as far away from the entry points of your home – so your garage door or your front door.
2. Wear the right safety equipment
If you want to ensure the safety of everyone in your family, you'll want to make sure the proper safety gear is worn at all times. These are things like hard hats, steel toe boots, and protective face coverings. The construction workers should always be wearing these things when working in your home.
3. Use safe practices
Dumpster rentals seem like they can't cause much harm to you and your family, but you and your family should always practice safety around it. When you get your dumpster rental delivered, ask the dumpster company to perform an inspection on your dumpster and oil up any pieces that don't seem to be working properly.
4. Keep children away
One of the most important safety tips we have for you is the keep your small children away from the dumpster. They should never be left unattended near the dumpster and they should never treat the dumpster rental like a jungle gym.
5. Avoid fire hazards
Some dumpsters can actually contain flammable materials in them, meaning you should never smoke or have matches or a lighter near your dumpster rental. A small spark can result in a big fire, so don't put yourself or your family at risk.
Are you looking for a dumpster rental in Jonesboro for your upcoming home renovation project? Are you having some work done to your house and your contractor required you to rent a dumpster for the period of the project? If you're looking for a dumpster company to rent a dumpster from, give M&M Waste a call today! We offer dumpster rentals all of kinds and we make renting a dumpster easy.