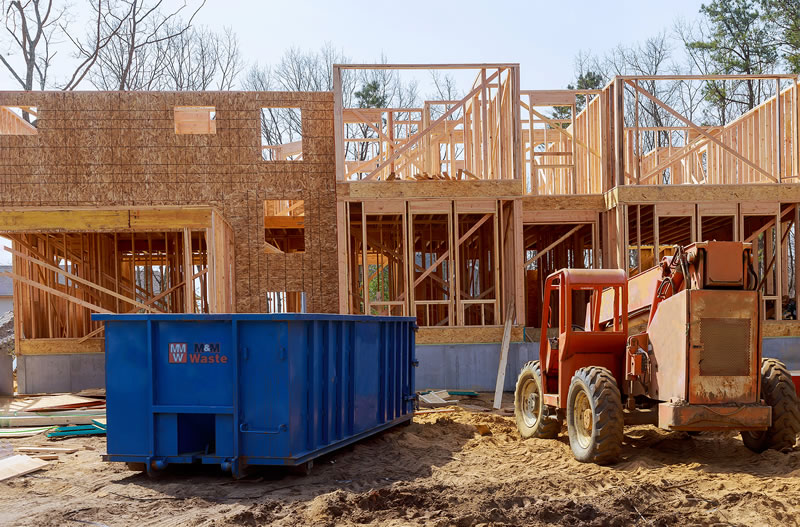 Renting a Dumpster Guide for Contractors
Contractors know the importance of renting a dumpster for any construction or renovation project. Dumpsters provide a centralized location to dispose of waste materials, keeping the worksite tidy and safe. However, before renting a dumpster, several factors should be considered: type and amount of waste generated, dumpster rental size, cost, location, and timing. M&M Waste identifies helpful insights to rent a dumpster efficiently.
Type and Amount of Waste
Before renting a dumpster, it is essential to determine the type and amount of waste that must be disposed of. Different materials necessitate different disposal methods; some even need special disposal procedures. For instance, hazardous items like chemicals, batteries, and electronics should not go in an ordinary dumpster but require specialized disposal.
The amount of waste generated is important when selecting the size dumpster for your job. Accurately measuring its volume helps avoid overfilling or underutilizing the container, so take an inventory of what must be disposed of and calculate an approximate volume before selecting an appropriate dumpster size.
Dumpster Rental Size
Dumpsters come in various sizes, ranging from 10 cubic yards to 40 cubic yards. The size required will depend on the amount and type of waste generated during your project. Selecting a dumpster size that is too small may lead to overfilling, while selecting one that is too large can result in added expenses.
A 10-yard dumpster is ideal for smaller projects, like bathroom renovations, whereas a 20-yard dumpster works great for medium-sized ones, like kitchen renovations. However, larger containers, such as 40 yards, may be necessary for larger jobs like commercial building demolition.
Cost
The cost of renting a dumpster varies based on several factors, such as its size and what type of waste must be disposed of. Some companies charge flat fees, while others are based on the weight of waste. You must get quotes from multiple dumpster rental companies to guarantee an accurate price.
When comparing quotes, it is essential to factor in additional fees such as delivery and pickup or exceeding the weight limit. Some companies may even offer discounts for extended rental periods, so considering rental duration when comparing prices can make a big difference.
Location
Selecting an optimal location for the dumpster is essential to effective waste management. Ideally, it should be placed in an accessible spot that does not impede traffic or access to the site. Furthermore, ensure the dumpster sits on a level surface to prevent it from tipping over.
If the project is in a residential area, obtaining permits from local authorities may be necessary before placing the dumpster on the street. Some dumpster rental companies will assist customers in securing these permits; others require them to be obtained independently by the customer.
Timing
Timing is of the utmost importance when renting a dumpster. Ensuring the container is available and picked up promptly when full is essential. Some rental companies may have limited availability, especially during peak construction periods; thus, booking ahead of time is recommended.
When renting a dumpster, it is essential to consider the project timeline. If the job anticipates producing significant waste, renting the dumpster may be necessary for an extended period. Conversely, if minimal waste is produced during construction, smaller dumpsters could be more cost-effectively rented for shorter amounts of time.
M&M Waste
M&M Waste is a trusted dumpster rental company offering contractors efficient waste management solutions. Their selection of dumpster sizes covers various project needs, from 10-yard to 40-yard containers. M&M Waste is committed to affordability and transparent billing with no hidden fees.
They provide flexible rental periods, enabling contractors to rent dumpsters for as little as a day or up to several weeks. Their team of knowledgeable professionals can assist contractors in selecting the appropriate dumpster size and location and obtaining any necessary permits.
M&M Waste not only offers dumpster rental, but they also offer waste removal and recycling services. Their mission is to reduce the environmental impact of waste by recycling as much of it as possible and diverting it away from landfills.