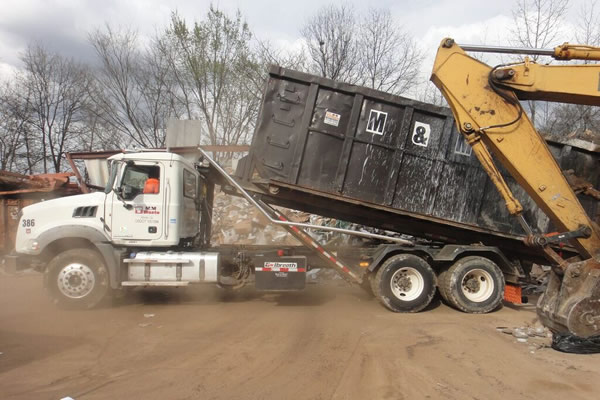 Nine Reasons to Rent a Dumpster
Renting a dumpster is a great way to get rid of unwanted materials in your home or business, and if you don't have the space to store them, why not recycle them? Whatever project you have in mind, M&M Waste has the proper size dumpster rental for your needs. Here are nine more useful reasons to rent a dumpster that will help you decide what project to do next.
Community Projects
If you're part of a community group or church working on a project together, renting a dumpster can help you stay organized and keep everyone focused on the task. You can easily load all the debris from your project into one container, making cleanup much easier than if everyone were using garbage cans or bags. It also helps make sure no one accidentally leaves trash behind when they're done with their section of the project.
Free Up Workspace
If you have too much clutter in your garage or basement, renting a dumpster can help you make more room so that you can get back to enjoying these rooms in your home again! This is especially helpful if you plan on having guests over anytime soon — they'll appreciate not having to step over piles of stuff while they're visiting!
Cleaning Up After Unexpected Events
If you've had an unexpected event like a plumbing leak or flooding, you may need to clean up your home and yard before you can resume a normal life. A dumpster rental is ideal for this situation as it allows you to dispose of the mess while cleaning up simultaneously easily.
Cleaning up after spring storms is also a great time to rent a dumpster if you plan on landscaping projects like adding new bushes or flower beds around your home. Hauling away all those branches and leaves will help keep your yard looking great throughout the year!
Spring Cleaning
Spring is the perfect time to clean out closets and garages before summer begins. Renting a dumpster makes sense if you're planning on doing some spring cleaning but want to avoid dealing with all of the trash afterward! Simply throw everything into the dumpster — including old clothes that may not fit anymore — and let us worry about getting rid of them for you!
Landscaping Projects
Landscaping projects can be messy and time-consuming. Renting a dumpster can make the process much easier by eliminating the need for multiple trips back and forth from the dump or landfill site with bags full of yard waste. Dumpsters also ensure that nothing is left behind by accident: leaves that fall off trees during heavy winds or tree branches that break off during storms will all be collected in one place and hauled away at once. This keeps your yard looking neat and clean while saving time and energy.
Construction Projects
Construction projects are one of the most common reasons why people rent dumpsters. Suppose you're planning on doing construction work in your home or office building. In that case, renting a dumpster will help keep things neat and clean while also ensuring that all waste is properly disposed of without causing inconvenience to your guests, neighbors, or community members.
Roof Replacement
If you're replacing your roof, you'll likely have much debris to remove. A dumpster is a perfect solution for this job; it can hold all old shingles, nails, and other building materials until they're ready to be removed. This helps keep your property clean while you work on the project.
Make Room For Guests
When friends or family come over, they expect their own space — not yours! A few days before guests arrive, clear out the clutter in closets and drawers so that they can unpack their bags and store their belongings while staying with you. A dumpster can save the day if you have a lot of clutter.
What about if your adult child needs to move back home for a while, and you have turned that bedroom into a storage room? The quickest way to deal with it is by renting a dumpster. If you haven't used something in a year - it can go!
Recycling Projects
You can rent a dumpster to help you get rid of all those old newspapers, magazines, and cardboard boxes you have accumulated over the years. This can also work well if you plan on doing spring cleaning or redecorating in your home. After your old belongings have been thrown away, you will be left with plenty of room for new items!
M&M Waste
You can save a lot of money when you rent a dumpster rather than hiring other professionals — without even considering the environmental benefits! The best part is, finding a reliable company to rent from isn't hard. M&M Waste is here for you!
M&M Waste provides affordable, reliable roll-off dumpster rental services to businesses and homeowners alike.