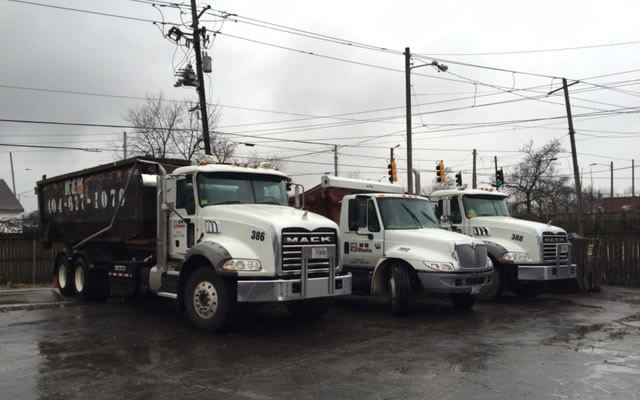 How to Rent a Dumpster
What are your project needs? If you have a property requiring extensive cleaning and disposal, renting a dumpster is best. When considering your next DIY project, you may underestimate the amount of space you will need to ensure everything goes smoothly. Sorting through and removing junk can take up valuable storage space, not to mention finding a place to put all of it. Renting a dumpster allows you to clean out your space while avoiding hauling fees and the time to drop off dumpster returns. M&M Waste wants you to ensure every inch of space inside the dumpster is used efficiently and that everything returns as planned at the end of your rental period!
What Are Your Project Needs?
When planning a project, knowing what size dumpster will be needed is essential. Dumpsters come in sizes, including ten cubic yards, 15 cubic yards, 20 cubic yards, and 30 cubic yards. A 10 cubic yard dumpster is generally sufficient for small projects such as roofing repair or remodeling 1-2 bathrooms. A 20 cubic yard dumpster can handle larger projects like a major kitchen remodel or single-family garage demolition.
Dumpster rental companies will often offer a choice between the types of materials that may be placed in the dumpster, so if your project includes some hazardous material, such as paint or asbestos, find out if they'll be accepted and, if so, how long you have to get rid of them before they become your responsibility.
The amount of waste you need to get rid of will determine how large your dumpster needs are and what size you should rent. If you're doing some spring cleaning or landscaping work, then a ten cubic yard unit may be enough for your needs; however, if you're doing major home renovations or clearing out an estate sale inventory, you'll likely need something more significant. Share your requirements with M&M Waste, and we can help you determine the size best for your project.
Opt For A Reputable Dumpster Rental Service
Before you decide on any dumpster rental service provider, you must take some time to do your research. This way, you will be able to choose the best one for your needs and avoid being scammed by fake companies.
Here are some things that you should consider when hiring a dumpster:
Make Sure They Have Adequate Insurance Coverage
Check Their Customer Reviews & Ratings
Look For A Company That Offers Free Quotes
Ensure You Have Enough Space To Rent a Dumpster
You must ensure enough space on your property to place a dumpster. You can check with your local city hall or the company you rent it from to see if there are any restrictions on where you can put it.
You will also want to be sure that you have enough room for the truck to drop off and pick up the dumpster. If you only have a small driveway, you may consider placing the dumpster in front of your house if there is no other option.
Also, ensure that you have enough room behind the dumpster so that when it is picked up from your home, it does not hit any objects or cause damage to your property.
Organization To Maximize Dumpster Space
When renting a dumpster, you must keep in mind that you have limited space. With this in mind, you should organize your items to fit as compactly as possible inside the dumpster.
Here are some tips for maximizing your dumpster space:
Wrap boxes in newspaper or plastic bags before placing them in the dumpster. This will help protect them from damage and keep them from shifting too much.
Compact your trash. If you have large pieces of furniture, break them down into smaller sections or remove parts to make them more compact. You can also stack boxes of similar sizes on top of each other as long as they're not too heavy for the bottom one to support.
Stack smaller items vertically rather than horizontally whenever possible. For example, if you have several boxes of books, try stacking them vertically instead of laying them flat on top of one another. This will help prevent them from sliding around and falling over during transport and disposal.
M&M Waste Can Help With Your Dumpster Rental Needs
At first glance, renting a dumpster for your next home improvement project might seem unnecessary. After all, brooms and trash cans work just fine for most small jobs, and chances are you'll find some use for the discarded materials later. But what if you want to pull off a do-it-yourself remodel or start clearing out your clutter and cleaning the house completely? As you can see from the above information, renting a dumpster can come in handy in various situations. Contacting M&M Waste is step number one, and get started on your project now!