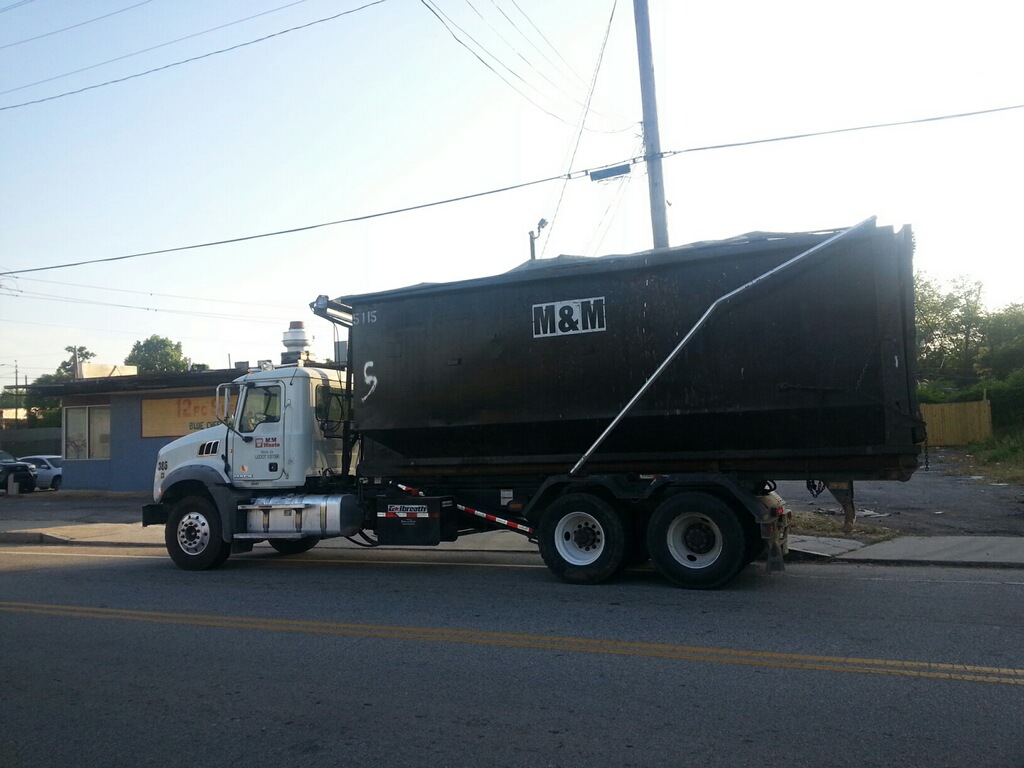 How to Plan a Community Clean-Up
Community clean-ups are not planned overnight. Coordinating with neighbors, public officials, and local businesses can take days or weeks. Be prepared with a plan for what might arise. Planning a community service project will not only help you identify how to help your community, but it will also get your neighbors involved and engender feelings of goodwill. The task will be more enjoyable if you get other volunteers to accompany you. Most important with a community cleanup is to ensure you rent a dumpster (or more than one) from M&M Waste. For large community cleanup events, more than one strategically placed dumpster rental will make quicker work of the cleanup.
How To Get Started
Here are the steps to organizing a community clean-up:
Find out if there is already a group in your neighborhood that organizes cleanups and other events. If so, reach out to them and see if they can help you get started.
Pick a date and time for your cleanup effort. This is important because it will allow you to plan ahead and encourage more people to join in on the day of your event.
Choose a Leader
There should be one person in charge of organizing the event and ensuring that all of the details are taken care of. This person will be responsible for contacting local businesses and getting permission from them if necessary, making sure that everyone has the supplies they need to get the job done, organizing volunteers, and making sure they are informed about what they need to do during the event. The leader should also coordinate with local law enforcement officials so that everyone knows their responsibilities regarding safety concerns during the event.
Decide When and Where
The best time for a community clean-up is usually in spring or fall when weather conditions aren't as extreme as they can be during other seasons. You may want to hold an annual event or have different clean-ups throughout the year, depending on how much trash accumulates in your area during any given time period. You'll also want to decide whether you want this event to be open to the public or keep it just within your neighborhood by not allowing "outsiders" in.
Plan Ahead
Before you start cleaning up, make sure you have all the necessary supplies and safety equipment on hand. This includes trash bags, gloves, brooms, shovels for manual litter clean-up, as well as any cleaning supplies or power equipment that may be needed for more extensive projects such as graffiti removal or pressure washing. Make sure you have enough supplies for everyone who plans to participate in the event too!
Spread the Word
Once your supplies are ready, it's time to recruit volunteers! Use social media platforms such as Facebook and Twitter to help spread the word about your upcoming event. You may also want to invite local businesses who might offer discounts or freebies in return for donations of used clothes or other goods they can use in their stores or donate back to their communities.
How Large an Area Would You Like To Cover?
Think about how big an area you want to cover during your community clean-up event, whether that's one block or several blocks, or even an entire neighborhood. You may also want to limit your event to certain areas so as not to exhaust volunteers who might otherwise help out in other ways throughout the year (for example, by volunteering at soup kitchens or homeless shelters).
How Much Time
Decide how much time you'll have for this event. If it's just going to be a quick 15-minute cleanup, then you might want to limit it to one area only — perhaps a local park or beach where everyone can meet up at once (this is especially important if there's no way of knowing how many people will show up). If you're looking at doing a more thorough job with more than one site, then decide whether each team should go out together or whether they should work separately and come back together later on to exchange tips and ideas.
How Many Dumpsters Will Be Needed
Determine how many dumpsters will be needed for your community clean-up event. How many people will be participating, and how much trash do they expect to generate? The more people involved, the more trash will be produced, so it's important to plan ahead and ensure you have enough dumpsters on hand.
Where Will the Dumpsters Be Placed?
Next, consider where you will place the dumpsters for your community clean-up event. You'll want them in an area where people can easily access them without disrupting traffic flow or causing any other problems for pedestrians or vehicles in the area. You may also want to consider placing them near parking lots so that participants can park near their designated dumpster locations rather than having to walk long distances from their cars when carrying their trash bags.
Start Planning Today
You'll want to consider a few important factors when planning a community clean-up. Dumpsters come in all sizes, but you'll need to find the one that accommodates the size of your debris and makes sense for your location. When you have settled on the perfect size dumpster, call M&M Waste to schedule your dumpster rental delivery. Make sure you don't forget about safety precautions such as barricades and having someone positioned at the end of the driveway to watch for traffic. If possible, ask neighbors if they would like to participate in the clean-up. It's always helpful to have more hands on deck.