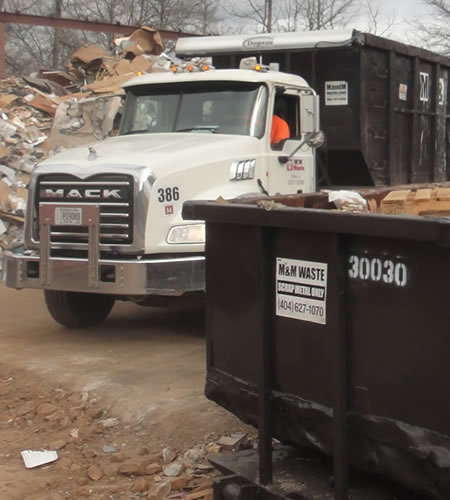 How Much to Pay For Dumpsters
When managing waste, renting a dumpster is usually the best solution. Whether doing a home renovation, decluttering your office, or anything else, renting a dumpster is an easy way to quickly and easily dispose of large volumes of material. Before renting one, though, some factors will determine how much you pay. When you need additional cost information for a dumpster rental, contact M&M Waste.
Cost Considerations
The cost of renting a dumpster can vary significantly based on several factors. Usually, you'll pay an upfront fee that covers delivery and pickup and an amount for space used inside the container. Additional fees may apply if you exceed weight limits or need to keep the dumpster for an extended period. To get the most value for your money, carefully assess your needs and select an appropriate size and duration of the rental.
Dumpster Size
Size is an important factor when renting a dumpster. Dumpsters come in various sizes, from 10-yard models to 40-yard containers. Ultimately, your size will depend on how much waste needs to be disposed of and the available space for the container. Opting for larger dumpsters than necessary could cost more money, while smaller ones may need extra pickups or deliveries.
Duration of Rental
Another essential factor when renting a dumpster is its duration. Generally, dumpster rentals last anywhere from one week to one month, with additional fees applying for rentals longer than one month. Make sure that you select an amount of time that allows enough time for waste disposal but not so much that you end up paying for something unnecessary. If you need more time, consult the rental company about available options and length of stay.
Dumpster Location
Another element that can affect the cost of a dumpster rental is location. If you're renting one for residential property, you may need to secure permission from your local government before placing it on the street or public area. Furthermore, commercial properties often need arrangements for pick-up outside regular business hours by the rental company. Therefore, be sure to discuss all details beforehand in order to prevent any unexpected charges later on.
Time of Year
Finally, the time of year can affect the cost of renting a dumpster. Dumpster demand tends to be higher during spring and summer, leading to higher rental fees. Furthermore, additional fees may apply for delivery and pickup services if you're renting during a holiday such as Thanksgiving or Christmas. To get the best value for your money, consider renting during off-seasons or planning for any holiday-related costs.
Disposal Items
One factor many people forget when renting a dumpster is the type of waste they need to dispose of. Certain materials, like hazardous materials or electronics, require special disposal methods, which could increase your rental cost. Furthermore, certain rental companies may not accept certain kinds of waste like concrete or dirt, so you must discuss your waste disposal needs with the rental company beforehand so you select the correct size and type of dumpster for your requirements.
When selecting a rental company, do your due diligence and research a company that provides reliable service at competitive pricing. Look for ones with positive reviews from past customers and those licensed and insured to protect your property and liability. Moreover, inquire about any additional fees or costs that may apply to your rental so you can budget accordingly.
Why Should You Rent a Dumpster From M&M Waste?
For reliable and affordable dumpster rental companies, M&M Waste is the premier option. With years of experience, they have earned a reputation for providing high-quality dumpster rentals with exceptional customer service. Their range of dumpster sizes fits any project from small renovations to large commercial jobs, plus they deliver and pick up at convenient times for you. Furthermore, M&M Waste is dedicated to sustainability; they recycle as much waste as possible to minimize its environmental impact. Overall, if you need reliable dumpster rental companies that you can count on for reliability & dependability, then M&M Waste is an excellent choice!