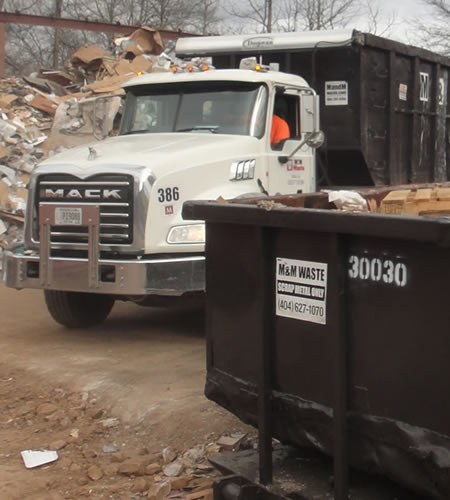 How Does Dumpster Rental Work?
Dumpster rental services provide individuals, businesses, and organizations with convenient and effective means of managing waste and debris. Renting a dumpster can simplify waste disposal when remodeling your home, undertaking construction work, or hosting large events. In this guide, M&M Waste discusses how the service works, its advantages, and the steps involved in renting one.
What Is Dumpster Rental?
Dumpster rental involves temporarily using large dumpster containers to collect and transport waste materials. Dumpster sizes typically range from smaller 10-yard containers for household cleanouts to larger 40-yard dumpsters used on larger commercial projects. Your selection depends upon how much waste is created and your project type and waste volume generated.
Why Rent a Dumpster?
Leasing a dumpster offers several distinct advantages over more traditional forms of waste disposal. First and foremost is its centralization, creating an organized site for waste collection that reduces clutter while improving work environments and workplace safety. Second is saving time and effort by eliminating multiple trips to local disposal sites. Lastly, it ensures compliance with waste regulations while helping preserve our planet through effective waste management and recycling solutions.
Steps for Renting a Dumpster
Assess Your Needs: Start by determining the scope and estimated volume of waste produced during your project; this assessment will enable you to select an ideal dumpster size suited to your requirements.
Search For Dumpster Rental Service: In this step, look for businesses with outstanding reputations, excellent customer support services, and transparent prices.
Reach Out: Once your list of dumpster rental companies is finalized, contact them all individually to request quotes on both size of the dumpster needed and the rental period, as well as any extra fees or charges associated with their services.
Select the Appropriate Dumpster Size: Based on your estimates and waste estimations, select a dumpster size that best meets your needs. Using slightly larger dumpster sizes may be wiser to prevent overflowing the bins.
Schedule Delivery and Pickup: After choosing your rental company and selecting a dumpster size, set a delivery and pickup date that matches your project timeline. Some providers even provide same-day or next-day service for urgent projects!
Prep the Location: Be certain the area where your dumpster will be delivered is free from obstruction, including driveways and walkways, and obtain any required permits if placed on public property.
Load the Dumpster Properly: When filling a dumpster, evenly distribute waste to use its capacity and avoid overloading or exceeding weight limits, which may incur extra charges.
Notify Your Rental Company For Pickup: After finishing your project or filling your dumpster, contact your rental company so they can schedule its pickup for removal and proper disposal of waste materials. They will ensure their prompt collection from your site or their storage site and dispose of them responsibly.
Waste Disposal and Recycling: Reputable dumpster rental companies ensure the waste they collect is disposed of according to local regulations or recycled responsibly to reduce environmental impacts. They may even offer recycling programs to minimize their environmental footprint.
Finalize Payment: Once the rental company collects the dumpster, they will present you with an invoice detailing all payments required for its return. Review it thoroughly to ensure everything is in order before paying what's due.
M&M Waste
At M&M Waste, we understand your expectations when renting a dumpster in Norcross can vary drastically - which is why our team at M&M Waste strives to offer superior dumpster rental services tailored specifically for each of their clientele's unique requirements.