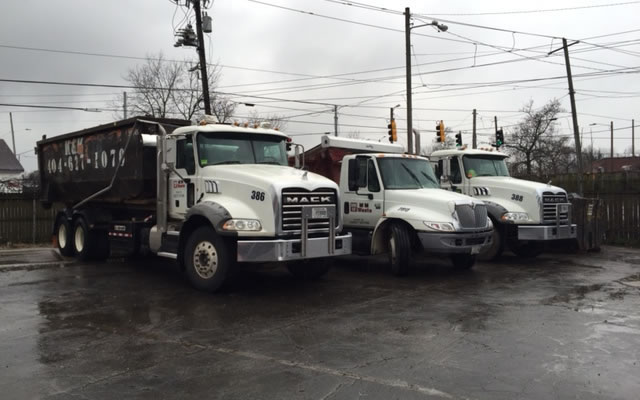 Request Dumpster Rental Service in Lake City
Do you have an upcoming construction or renovation project to plan for? Are you ready to deep clean your home or commercial building? Then consider investing in a dumpster rental in Lake City, GA. At M&M Waste, we provide premium residential dumpsters, construction dumpsters and commercial dumpsters for local homeowners and businesses. If you have been looking online for a reliable Lake City dumpster rental near me, then you have found the right solution. Speak with our team today to rent a dumpster in Lake City, Georgia or a nearby metro area neighborhood.
Why Rent a Dumpster in Lake City, Georgia?
A Lake City dumpster rental can offer a lot of incredible benefits for property owners. They can help you stay organized, clean and safe during large-scale projects, and can make small cleanouts or backyard construction a breeze. We will drop off the dumpster on site at your location, which will make it fast and easy to toss away unwanted items. This will keep dangerous materials like nails and scrap sheet metal out of the work area and will save homeowners and managers time and money by avoiding multiple trips to the landfill. When your dumpster is full, our crew will pick it up and take care of the mess, while you remain focused on other essential priorities.
Residential Dumpsters
Are you cleaning out the basement or attic? Do you have a big bathroom or kitchen renovation project on the horizon? Whether you are doing some spring cleaning or are building a mother-in-law suite in the backyard, having a dumpster on site will help your property stay tidy and safe for loved ones from start to finish. There's no need to worry about the logistics or costs associated with hauling heavy items to the local landfill, let our team take care of it for you.
Commercial Dumpsters
Businesses can utilize dumpsters for a variety of purposes. Do you need a continuous dumpster rental for non-perishable waste materials? Are you planning on moving your offices to another location or considering a major property improvement like a roof or siding replacement? Regardless of the reason for your dumpster rental, we will be happy to help you achieve the results you expect.
Construction Dumpsters
Do you own a construction company and need a better way to keep your work site safe and clean for your crew? Protect your assets and employees, and save big on gas and labor, by renting your dumpsters from M&M Waste. our team will work one on one to find a customized solution that fits your needs and budget.
Do You Need to Rent a Dumpster in Lake City, GA? Call M & M Waste Today
Are you searching Google for a dependable Lake City dumpster rental near me? Then call the crew at M&M Waste. Our service providers are ready to help make your next project a success with our commercial dumpsters, residential dumpsters, and construction dumpsters. Contact our office to learn more about our selection of products and services or to schedule a convenient appointment for your next dumpster rental in Lake City, Georgia or a surrounding community.