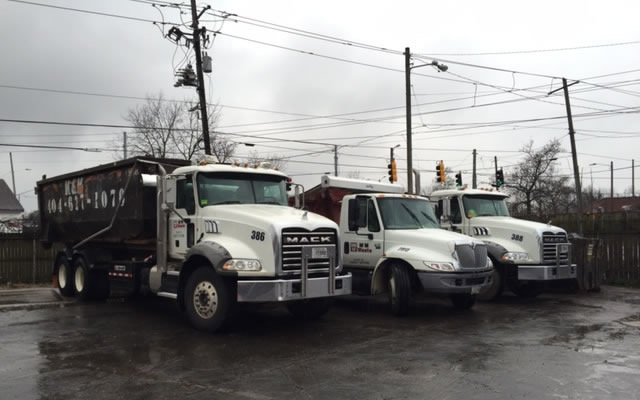 Dumpster Rental in Fayetteville
Is your attic, basement or garage past due for a weekend cleanout? Are you gearing up for an upcoming summer home improvement project? Whether you are a homeowner who wants to stay organized or a large construction company that needs to invest in a weekly dumpster rental in Fayetteville, Georgia, our team is always ready to help you reach your goals. At M&M Waste, we offer premium commercial dumpsters, residential dumpsters, and construction dumpsters for local property owners. Have you been searching the internet for a dependable Fayetteville dumpster rental near me? Then discuss your needs with our knowledgeable staff and find out what we can do for you.
Reasons to Rent a Dumpster in Fayetteville, Georgia
Rolloff dumpsters can be useful for a wide range of projects. Whether you are cleaning out your office space or starting a construction business, having a durable container on site can help keep your work area well organized, clean and safe. In addition to keeping rusted nails, scrap metal, and broken lumber out of the way, it can also help property owners save on gas, labor costs, and cleanup. This is because tossing away unwanted furniture, old fixtures, and building materials is extremely simple, and there's no need to make multiple trips to the landfill. Instead, our crew of drivers will come to pick up your full container and haul it away. This leaves you and your team free to stay focused on other essential priorities that will help you reach your project goals.
Construction Dumpsters
Does your construction company need a more convenient and affordable way to manage waste on the job site? Then our roll-off containers are the perfect solution for your needs. We will work one on one to find the best dumpster size for your circumstances. Talk to our service providers about our available options.
Rent Same Day Dumpsters in Fayetteville
Commercial Dumpsters
Do you need to rent a dumpster in Fayetteville for your non-perishable materials? If you own a retail store, carpenters shop, packaging plant or other organization that has a lot of waste but nowhere to toss it, then let us help make your day-to-day operations simple. We can create a customized solution and rental schedule that fits your unique needs and budget.
Residential Dumpsters
From bathroom renovations to roof replacements, having an on-site dumpster rental can make your home improvements go smoothly from start to finish. We have a wide selection of sizes that are sure to match your project.
Is It Time for You to Rent a Dumpster in Fayetteville, GA? Call M & M Waste Today
Are you looking on Google for a reliable Fayetteville dumpster rental near me? Then call the team at M&M Waste. Our staff is ready to answer any questions that you may have about your dumpster rental in Fayetteville, Georgia, or a nearby metro Atlanta area community. Contact our office for more information about our residential dumpsters, commercial dumpsters, and construction dumpsters, or to schedule a convenient appointment for the next Fayetteville dumpster rental.