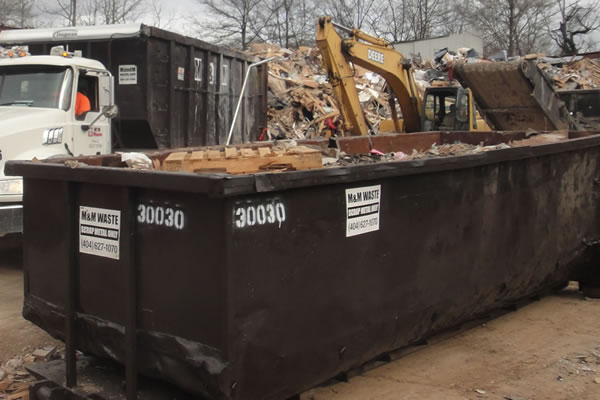 Dumpster Rental Service in Decatur
Do you have an ongoing project and in need of dumpster Rental in Decatur? Or are you busy searching online for a dumpster rental in Decatur? If yes, welcome. We have the right answers for you. Whether you are planning a home renovation, a big construction project, or a massive cleanout, our dumpster rental service is available to make your job easier. At M&M waste, we are on standby to provide you with the perfect dumpster to take out your junk.
Don't worry about the distance by making a Dumpster rental near me search. We are just a booking away. Our dumpsters range from the small roll bins to the large commercial dumpsters, which we can set on the way to you as soon as you drop the call. Tell us your specific needs and budget, and we will fix the perfect Dumpster Rental in Decatur for you.
Residential Dumpster Rental in Decatur, GA
Do you want to clean your new apartment before you move in? A residential dumpster will help you keep things neat and tidy. To rent a dumpster in Decatur, contact our professionals to get a quote or more information on the right dumpster to use. Our small roll-off bins can take care of waste from a small room, and if you need something bigger, we could it step up to the large 40-yard dumpsters.
If you have been wanting to clean out your garage or prepare the spare room for guests, now is time to get started. Our residential dumpsters offer a quick and easy way for you to remove you debris and other junks without all the stress and added costs. Contact our Decatur dumpster rental today and save yourself the trip to the nearby dump.
Commercial Dumpster Rental in Decatur, GA
Have you been wondering how you can get rid of that pile of debris at your construction site? You can get any of our construction dumpsters to keep your site safe and organized. Regardless of the scale of your project, our commercial dumpsters are versatile for your every need. You can use them easily for your landscaping, house renovation, or roofing.
We have a variety of bins that you can use depending on the size of your waste. You can call for permanent placement of our construction dumpsters or you can rent them for extended periods at affordable rates. Let our dumpsters do the legwork to the dump while you focus on delivering a befitting project.
Rent a Dumpster in Decatur, GA
If you need to rent a dumpster in Decatur, M&M waste offers premium dumpster rental at affordable rates. Give us a call to book our reliable dumpsters for your waste disposal. Whether you need them at home or construction site, our professional drivers will get our durable residential or commercial dumpsters to you in no time.
It gets easier. If you don't know the specs of the dumpster that you need for your waste, you can discuss your needs with us and we will help you get a dumpster that matches the size of your waste. We have the team, the dumpsters, and a track record of unmatched service excellence to deliver on your needs and expectation. Contact us today for your dumpster rental in Decatur, GA.