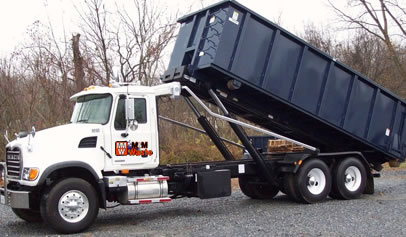 Dump Trailer or Dumpster Rental Which One is Better
Business owners will have to choose between dumpster trailer or rental service at some point in time, especially for clearing debris from their premises. Waste removal has a significant effect on the bottom line, especially in the construction and roofing industries and the better between dump trailer or dumpster rental should depend on the type of project you are working on. For effective elimination of waste from your commercial premise to landfills and recycling plants, please contact us at M&M Waste.
Compare Dump Trailer with Roll-off Dumpster?
Dump trailers are simply waste containers with wheels and high sides that can be used in hauling wastes to the dump. They are also referred to as rubber wheeled dumpsters but they are not the same as the roll-off dumpsters especially in their types of mobility and the amount of waste they can carry.
There are three different types of dump trailers, these are the Channel frame, I-beam frame, and Tubular frame. Channel frame is the least expensive option but has the weakest frame and smaller dump size. The I-beam frame is regarded as the middle-ground trailers. They do have mid-size and mid-strength frames but they carry more waste more than Channel frame trailer. The Tubular frame is the strongest and most expensive. Tubular frames are entirely closed and are larger than other options.
The dump trailer varies between 8 and 20 feet in length but the 12-14-foot trailer is most common. The Roll-off dumpster comes in bigger sizes of between 10 and 40 cubic yards. Roll-off dumpsters come with a more generous weight limit, and dumpsters can handle the larger construction debris, including roofing sheets, yard waste, and dirt.
Dump Trailer vs. Roll-off Dumpster
When it comes to price, hiring a Roll-off dumpster costs less than Dump trailer. The dump trailer, for instance, can cost up to $150 a day $425 or less you can rent an average 20-yard Roll-off dumpster for 10 days. You will probably pay between $600 and $1500 renting a dump trailer for the same period of time.
When it comes to convenience, renting a roll-off dumpster offers more convenience that dump trailer because you dont have to travel to get the dumpster and you dont have to empty the waste yourself. The ground-level placement of roll-off dumpster makes it easier to load than the Dump trailer.
The dumpster comes with its advantages. For instance, the rubber wheels are more comfortable on your property hence they are more conveniently moved from one area of the property to the other. Dump trailers are always available when you need it, so also is the roll-off dumpster, when you make your order from M&M Waste. Dump trailers will take one trip to evacuate a smaller volume of debris but the roll-off dumpster will handle more volume of debris even under one trip.
If you want the most convenient dumpster rental service that comes with the relative ease of debris evacuation, you can rely on M&M Waste. Give us a call at M&M Waste and we will help you out!