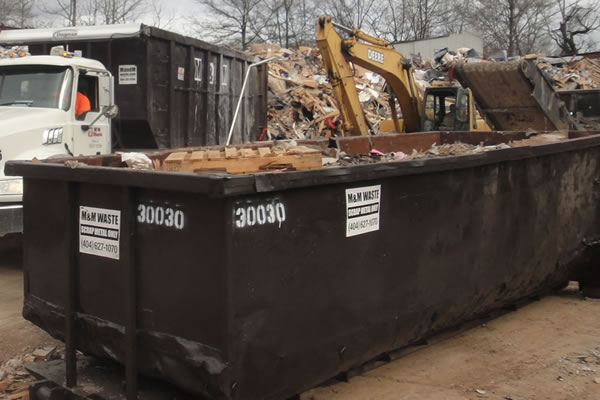 Advantages of Renting a Dumpster
There are many benefits when you rent a dumpster, such as durability, flexibility and convenience. As always, you'll have the freedom to pick and choose which home renovations are right for you. M&M Waste provides dumpsters in a wide range of sizes so you can rent the one that gives you the space you need. A dumpster rental makes for efficient work!
Durable Construction
Most modern dumpsters are made out of heavy-duty steel or polyethylene plastic that can withstand harsh weather conditions and rough treatment during transport. This ensures that the container can safely hold all types of waste without breaking down prematurely or causing any damage to its contents or surroundings.
Time-Saving Construction
When you're building a house or remodeling an existing one, it can take a long time to get rid of all the junk that accumulates during construction. Renting a dumpster allows you to fill it up once and then bring in another when it's full. This saves time because you don't have to keep going back and forth filling up your truck or van with trash every day or two. It also allows you to focus on the construction rather than spending time driving all over town looking for places that will accept large amounts of trash at once.
Eliminating Dangers
Another advantage is eliminating dangers that could arise when trying to get rid of trash yourself. If you're doing any kind of demolition work, there's always a chance that something might fall on someone or damage property. By renting a dumpster, you eliminate this risk because everything goes into one container instead of being scattered around the area where people are working.
Plenty of Space
One of the biggest advantages of renting a dumpster is that it provides plenty of space for you to throw away all your garbage. Whether you have a big construction project going on or just need to clean out your garage, renting a dumpster will give you enough room to fit all your junk inside without feeling cramped or cramped.
Rent Multiple and Fill All At Once
Another benefit of renting multiple dumpsters is that you can fill them all at once and not have to worry about going back for more later on in the day or week. This is especially helpful if you have several projects going on at one time and would like to have all the extra space available at once rather than having to make several trips back to the dumpsters throughout the day/week.
Insurance
You may have heard that you need to have a permit before renting a dumpster. But keep in mind that there are some cases where you don't need one. For example, if you're doing small projects such as cleaning out the garage or basement and want to get rid of debris, then you won't need any type of permit. However, if you're doing bigger jobs like building a deck or garage addition, then it's best to check with city hall first.
Flexibility and Convenience
Renters have the option of choosing between different sizes to fit their needs. Most companies rent dumpsters in sizes ranging from 10 cubic yards to 40 cubic yards, which is equivalent to 3 to 12 pickup truck loads. This flexibility makes it easy for renters to choose just how much space they need.
M&M Waste
Homeowners often rely on a dumpster rental in Fayetteville when undertaking important home improvement projects. Whether home-owners need to add a new component to their living space or are demolishing an undesirable area of the home, these containers are the perfect solution for any remodeling job. People know where they can rent a dumpster — M&M Waste.